"Irons gives the best and most subtle stage production of his career…Michael Blakemore's steely but delicate and lucid production has a sense of tragedy both monumental and fragile."
The Sunday Times
EMBERS is a compelling story of love, friendship and betrayal set against the backdrop of war-torn 1940s Europe.
Henrik, a retired general from the Austro-Hungarian army eagerly awaits the arrival of his dearest childhood friend, Konrad, a man he has not seen for several decades. They were last together on a fateful hunting trip when Konrad mysteriously fled Vienna, leaving behind Henrik and his beautiful wife Krisztina. Will the reunion bring answers to the questions that have haunted Henrik's life with such intensity?
"I was fired, moved and enthralled by Embers. I rate it as one of the major experiences of my theatre-going life…a fascinating, Ibsenite exploration of the past." The Evening Standard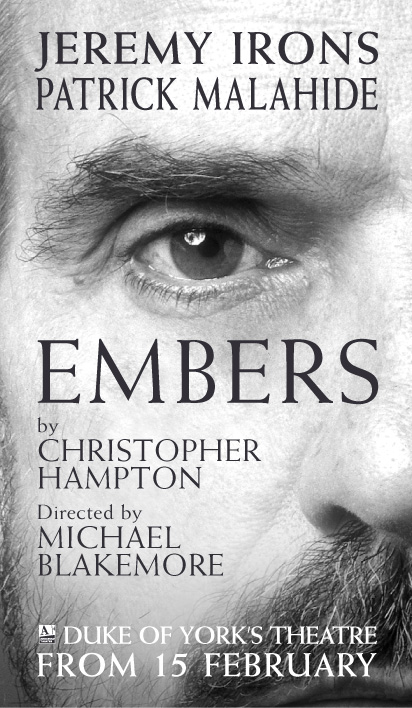 Director: Michael Blakemore
Playwright: Christopher Hampton
Based on the bestselling novel by Sándor Márai
(as translated by Carol Brown Janeway)
Producers: Eric Abraham, Robert Haggiag
Principal Cast: Jeremy Irons, Patrick Malahide, Jean Boht