More than half a century since the first performance in 1959, the Fugard Theatre's production of this iconic and historic musical has received five-star reviews and rapturous audience responses. 
King Kong tells the story of heavyweight fifties boxing champion Ezekiel Dlamini whose self-appointed ring name was "King Kong" to the wildly exhilarating music of Todd Matshikiza.
Born in Vryheid in the then Orange Free State, Ezekiel Dlamini himself became and unwitting symbol for freedom and the wasted power of his people under apartheid. After a meteoric boxing rise Dlamini's life degenerated into drunkenness and gang violence. In 1957 Dlamini was to be a classic Greek tragic figure when, in a fit of jealousy, he killed his girlfriend and at his trial asked for the death sentence to serve as a warning to others.
Instead, the white judge, refusing to take instruction from a black defendant, sentenced Dlamini to twelve years hard labour. Three months later King Kong was found drowned in a dam on a prison farm. At 36 years old King Kong had taken his destiny into his own hands and, inadvertently, become a legend.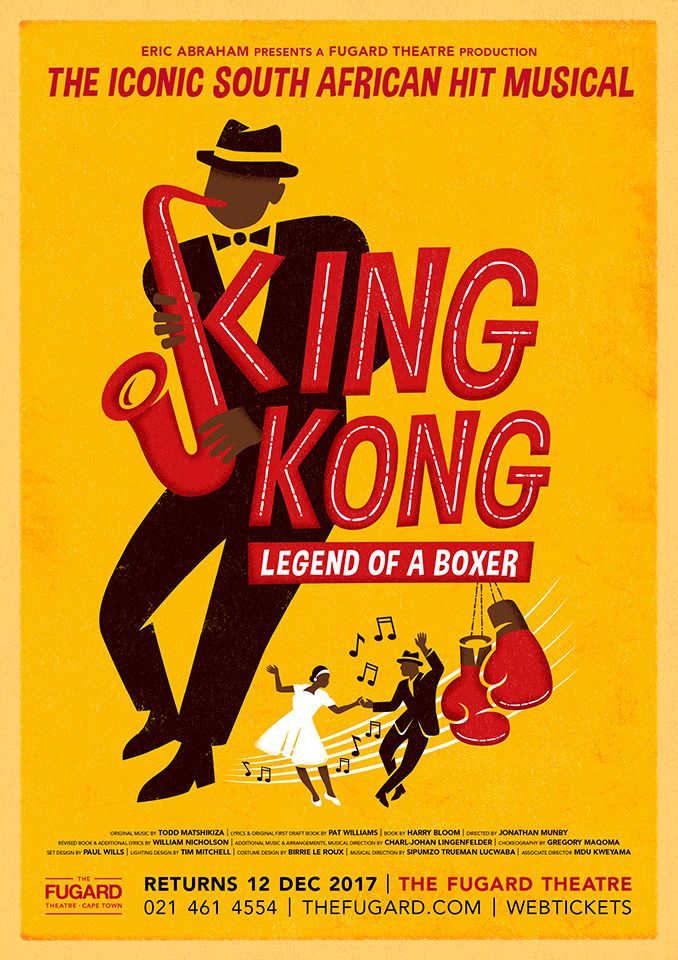 The original production featured music by Todd Matshikiza, lyrics and original book by Pat Williams and book by Harry Bloom. The revised book (with additional lyrics) is by Academy award nominated screenwriter and playwright William Nicholson (Shadowlands, Gladiator, Les Miserables, Sarafina, Long Walk to Freedom). South African choreographer star and recent French Legion D'Honneur recipient Gregory Maqoma choreographs King Kong to the irresistible original music of the late great South African composer Todd Matshikiza.
The Fugard Theatre's King Kong is directed by Jonathan Munby who directed the Fugard Theatre's production of A Human Being Died That Night with Noma Dumezweni (the only double Olivier award-winning Southern African actor) amongst many other international productions.
Musical Direction: Charl-Johan Lingenfelder and Sipumzo Trueman Lucwaba
Additional music and arrangements: Charl-Johan Lingenfelder
Set Design: Paul Wills
Costume Design: Birrie le Roux
Lighting Design: Tim Mitchell
Sound Design: Mark Malherbe
Associate Director: Mdu Kweyama
Reviews:
"Beautifully staged, impeccably performed piece of work, bubbling with vitality and sparkling with talent" – Weekend Special
"★★★★★ – King Kong enchants" – Die Burger
"★★★★★ – A knockout success" – City Press
"★★★★ – An electric, riveting and astounding reinvention … This triumphant production enchants and uplifts" – Cape Argus
"Gregory Maqoma's choreography is simply magnificent" – Daily Maverick
"A knockout … a tribute to South Africa's performance arts legacy" – What's On In Cape Town
"King Kong is a theatrical treat, and something to treasure and celebrate" – Theatre Scene Cape Town