West Side Story, which enjoyed a staggeringly successful, sold-out run at the Artscape Opera House in Cape Town in 2015, is the Fugard Theatre's first out of house production, five years on from the iconic theatre's official opening in 2010.
Eric Abraham and the Fugard Theatre, the creators and producers of other outstanding runaway hits like The Rocky Horror Show, Kat & the Kings, Orpheus in Africa and Cabaret, have created a phenomenal 100% South African production on an unprecedented grand-scale that has left audiences mesmerised night after night.
West Side Story, Leonard Bernstein, Arthur Laurents and Stephen Sondheim's musical theatre masterpiece, is based on an original conception of Jerome Robbins and is arguably one of the world's greatest musicals. The stellar creative team is headed by Matthew Wild as director, Charl-Johan Lingenfelder as musical director and choreographer Louisa Talbot. The Fugard Theatre team have selected the finest South African talent for this production that first premiered on Broadway in New York in 1957. The superb cast of 40 is backed by a live Philharmonic Orchestra playing Bernstein's magnificent score which includes the world famous songs "Something's Coming", "Maria", "I Feel Pretty" and "Tonight".
Inspired by Shakespeare's Romeo & Juliet, the tale is set in the Upper West Side neighbourhood in New York City in the mid-1950s. The musical explores the rivalry between the Jets and the Sharks, two street gangs of different backgrounds. The members of the Sharks are taunted by the Jets. The young protagonist, Tony, a former member of the Jets and best friend of the gang leader, Riff, falls in love with Maria, the sister of Bernardo, the leader of the Sharks. The sophisticated music, extended dance scenes, and the focus on social conflict marked a turning point in American musical theatre.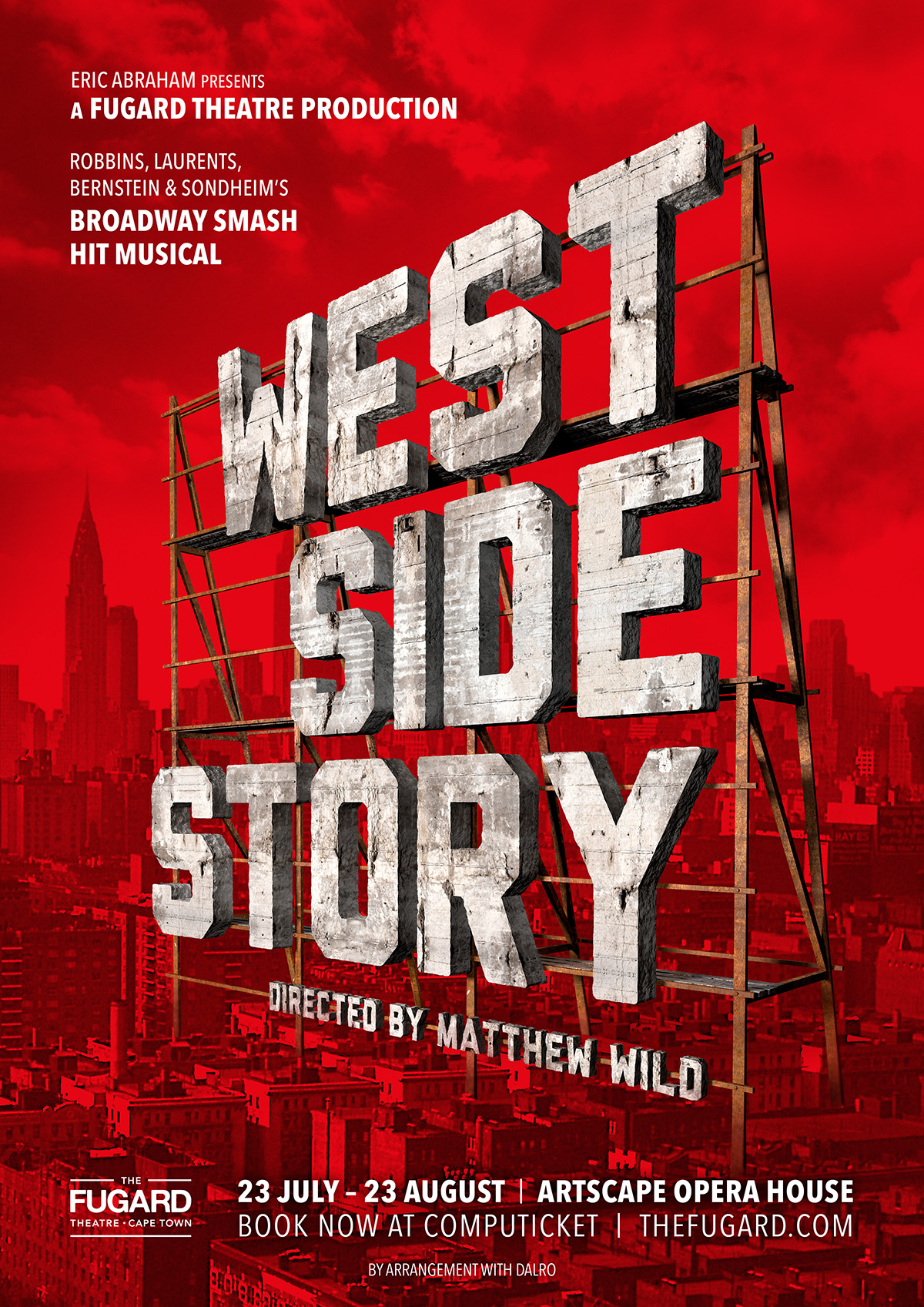 Reviews
★★★★ A SA success story – The Cape Argus
★★★★ – Die Burger
Roxmouth and Kenned dazzle – The Cape Times
West Side Story is as good as musicals get – The Next 48 Hours
…raises the bar for musical theatre internationally. –Bizcommunity
…every bit as brilliant as any international production, if not better. – Daily Maverick
Whimsical, breathtaking, visually explosive … an overwhelming, heart-thudding theatrical performance you simply have to experience. – Theatre Scene CPT
The Fugard Theatre's production of West Side Story is a tour-de-force – LitNet